This post contains affiliate links. If you buy something from one of our links we may earn a commission. Thanks
Time to update my GroBucket review because there have been some changes. I've had mine for a couple of years now and they have worked great. Growing really good plants in them for the past 2 years. They are made by Grotech Garden Products.
GroBucket Self Watering Planter Update
The only problem that I have had with mine is that the water level indicators were made out of wood and after this year I noticed that some of them had rotted.
Improved Water Level Indicator
It looks like they have improved water-level indicators which is a good thing it because does show that they care about their product and that they're working to improve it.
They have made some improvements in them and most notably it looks like the spout that you pour into has been widened and they added a label holder too.
They are being sold as an upgrade and I plan on buying some myself. GroBucket Water-Level Indicator Funnel Kit – 3 Pack $12.99 and GroBucket Water-Level Indicator Funnel Kit – 10 Pack $22.99
GroBucket Has A 4.7 out of 5 star rating on Amazon 
I also noticed that the GroBucket has a 4.7 out of 5-star rating on Amazon. It has hundreds of positive reviews. It is a good product and I think you can get good use out of it if you're into container gardening.
Just about everybody has some 5-gallon buckets laying around or can find free buckets they can use.
The GroBucket garden kit will help you turn your five-gallon buckets into self-watering planters also called SIPs.
They water from the bottom up and plants really seem to like that watering method. This is a real buckets system that really works.
GroBuckets Vs 5 Gallon Buckets
Now when you start your plans you're probably going to have to water them from the top for the first week or so until they get roots down a little bit deeper into the bucket.
I know a lot of people just use 5-gallon buckets but the problem is with the drainage.
The GrowBuckets provide a reservoir that is a great safety net when the weather gets hot. And the water level indicator lets you know at a glance when your plants need water.
Yeah you can take a 5-gallon bucket and you can drill a hole in it and I guess people do that and it works but watering is more of a guessing game. You pretty much need to lift the bucket up and tell by its weight if it needs watering.
There is something about bottom watering that plants really seem to like. GroBuckets are a pretty simple way to bottom water.
When you bottom water plants the leaves stay dry so there is less chance for fungal diseases to develop.
They are not that expensive so if you're into outdoor container gardening these are great. They also work great for indoor plants.
What a grobucket kit does is provide separation of the soil from the water reservoir. This means your plants will be able to wick water via capillary action so they don't get over or underwatered.
I mean you can pick up a 10-pack for a little bit over a hundred bucks or a 3-pack for about $40. If you have to buy the buckets they will probably cost you a couple of bucks apiece but you can probably find them laying around in your garage or find a friend who has some. They really are available free just about everywhere if you look.
Take Your GroBucket Indoors
One of the things that I really want to talk to you about is using them indoors and yes you can do that. You just need to put them in a plant tray.
But the beauty of the GroBuckets is that you can grow tender plants like citrus or an avocado tree or any decorative plant in a more Northern climate. You can grow a small tree in one of these buckets with no problem.
When the weather gets bad bring them inside and you can overwinter them inside so they won't get any frost damage.
You will need to provide them with a source of light if you want them to continue to grow otherwise they might go semi-dormant but there are plenty of lighting options available and lots of LEDs that you can use.
You might get by with just having them by a window it really depends on the plant. Some plants don't need a lot of light.
I have a coffee plant and it's an understory plant that grows tropically. It doesn't need a lot of light and as a matter of fact, too much direct sunlight can kill it. So you know there are some plants that it'll work for.
If you have a high-light plant you're going to need supplemental lighting. If you want to grow tomatoes indoors in your grow buckets you can sure do that.
Tomatoes and peppers do great in GroBuckets. They're perfect for growing larger plants like this.
But the thing is you have to make sure you can get enough light to them for them to grow well and produce for you.
Why I Like The GroBucket System
I just purchased the GroBucket which is a self-watering or sub-irrigated planter insert (SIP). It is designed to convert 5-gallon buckets into self-watering planters. It will be getting a full review from unboxing to final grow and harvest.
I love sub-irrigated planters and have built several self watering planter bed systems. I use them indoors to grow Cannabis because I am a medical marijuana patient who grows his own medicine.
My outdoor garden space is limited but I want to try a 5-gallon bucket system and I will be running the 3-bucket set outside.
All my SIPs are DIY so this will be my first store-bought system. You can get these on Amazon and they qualify for Prime shipping too!
Most people who use a SIP (sub-irrigated planter) or self-watering planters seem to favor 5 gallon buckets so I am really excited to give the GroBuckets a try.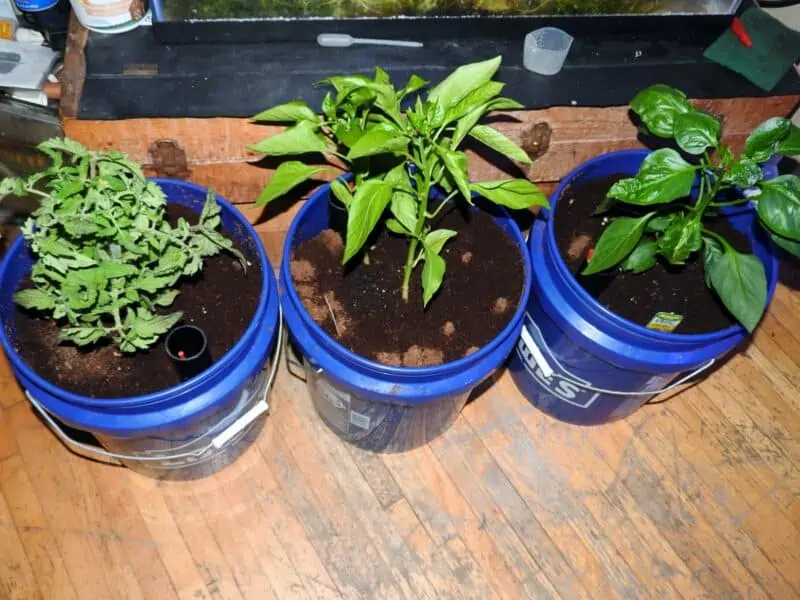 What Can You Grow With Grow Buckets?
You can grow just about anything from strawberries to herbs and even citrus trees. You can paint your buckets to decorate them or place them in a larger planter container.
GroBucket Self Watering 5 Gallon Bucket System Review
This is a very simple DIY SIP planter. All you need is 5-gallon buckets and to drill one hole in each bucket. Then you slip the insert in, add grow medium and plant. Then all you do is water from the top the first time.
When water runs out of the hole you drilled the reservoir is full. All future waterings will be from the fill tube and it has a water level indicator in it so you will know when to water again. Never worry about water levels again, just look at the indicator.
You can get your self watering 5-gallon bucket system on Amazon here
GroBucket Self Watering Planter Unboxing And Set Up
GroBuckets are available on Amazon at: https://amzn.to/2J12tYW
Here is an article with some general information about growing in 5-gallon buckets.
https://www.gardeningknowhow.com/special/containers/growing-vegetables-in-buckets.htm
I realize that not everyone is looking for a DIY project and although building sub-irrigated planters is easy, there are sub-irrigated planters for sale offering some very affordable ready-made options.
If you are looking for an easy way to grow herbs and other vegetables indoors check out my article about the AeroGarden. https://indoorvegetablegrower.com/aerogarden-worth-buying/
Growing Veggies In Sub Irrigated Planters
I am growing vegetables in 5-gallon SIP planters filled with coco. Plants are doing well despite a late start and are loving life! These sub-irrigated planter kits are for sale on Amazon and work great.
All you need is a 5-gallon bucket to make a SIP and they are pretty easy to come by. They are so easy to set up that a 5-year-old can do it.
Even if you only have one plant a SIP bucket is probably the easiest way to go. You can grow a really large plant in a 5 gallon bucket too.
One advantage of the bucket system over a garden bed is that you can move your plants. SIP buckets are light enough to easily move to a porch or other protected area in the fall.
In fact, a GroBucket can be taken inside when the weather starts to turn cold and used as an indoor planter. This is a great way to grow citrus or other frost-tender plants. They can overwinter inside and go back out in the spring unharmed.
You can dress them up with spray paint or other decorative surfaces. You need to place a mark on your dipstick when the water starts to spill out the bottom hole. Then place the 2nd mark below it and only fill to that point. Still putting a tray under the bucket is not a bad idea.
The grobucket system makes for easy self-watering containers and is much simpler to set up than autopot systems. You dont need elbow fittings or other pipe fittings and there is no tubing to leak. There are no airlines or other plumbing like a dwc bucket either.
GroBucket FAQs
How do you make a self-watering planter out of a 5-gallon bucket?
The easiest way is to buy GroBucket inserts. They have everything you need to convert a 5-gallon bucket into a SIP. I like DIY projects but I like simple ones I can easily finish.
Otherwise, you will need to build an insert to separate the soil and the water. You can use 2 buckets one inside the other with some kind of wicking system and a pipe to add water to the bottom chamber.
How do you use a grow bucket?
GroBuckets are sub-irrigated planters or SIPs. They are watered through a tube on top. The water will run into the reservoir and if you overfill it the excess water will flow out of the drain hole.
You don't water them from the top except for the first time you use them to thoroughly wet the soil.
How do you water a 5-gallon bucket?
Your 5-gallon bucket should have a standpipe above the soil surface that runs into your reservoir. You water by filling the standpipe with water until it starts to run out of your drain hole.
How do you set up a self-watering system?
To set up a self-watering system you will need to build or buy your planters. You can buy inserts to make 5-gallon self-watering planters from buckets.
Smaller units are made with 2 nested pots with space between them for a reservoir and a wick system to move the water up to the soil.
Here is a short article about sub-irrigated planters or SIPs as they are often called.