This post contains affiliate links. If you buy something from one of our links we may earn a commission. Thanks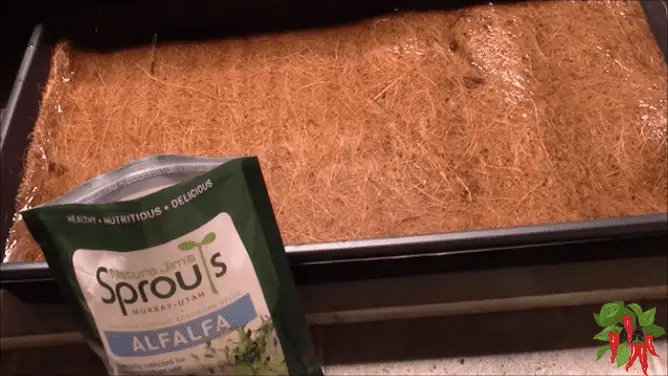 If you want to grow microgreens indoors you will want to learn how to grow microgreens indoors in trays. We will show you how and help you start growing your own microgreens in trays.
Microgreens in Trays Key Takeaways:
Growing Microgreens indoors in trays is a straightforward process.

Utilize 1020 planting trays, with one having holes for drainage and the other without to catch runoff water.

Fill the tray with a growing medium like coco coir, sow your microgreen seeds, and ensure they receive adequate light and water.

For a cleaner approach, employ coco grow mats within the trays, simplifying both growing and harvesting.
You can use recycled food containers to grow microgreens but we will recommend using 1020 planting trays instead.
Use sprouting trays for microgreens. They are not that expensive and you can reuse them multiple times. They will make your life easier too.
1020 Plant Trays Without Holes
You will be using two trays for your microgreens. One tray is slotted and has holes in the bottom. You will place your growing medium in this one.
1020 Plant Trays With holes
You will place it into a tray with no holes. This tray will catch any runoff from watering the upper tray.
You can use a plant tray without holes to pack down your soil mix. You can place it on top of the seedbed to keep it dark and retain moisture until the seeds start to sprout.
How To Grow Microgreens Indoors In Trays
Here is a video that explains this process. I want to point out that this grower uses peat and perlite for a soil mix. He fills his tray almost to the top with this mix.
But if he used coco coir instead he would not need a soil amendment at all. He also would only need half the amount of soil if he used coco coir.
Coco Grow Mats for Microgreen Seedlings
There is a third way to grow microgreens in trays using coco grow mats. It's much cleaner because there is no loose soil.
Also, many growers who sell microgreens for-profit use this method. The advantage is you don't need to cut and bag the microgreens.
Instead, a piece of the mat is cut to fit a container. Then mat and all plants in it are placed in a container and sold that way. The microgreens will stay much fresher this way as opposed to being cut.
While the mats do cost more than using a loose soil mix they provide the consumer with fresher microgreens. For the grower another benefit there is no soil media to dispose of.
How To Grow Microgreens With Coco Grow Mats
The video at the top of the post gives good advice on growing microgreens with soil or coco coir but the technique is different for coco mats.
To use the mats fit them inside the slotted grow tray and place them inside the tray without holes. Then cover the mat with water and let it soak for about an hour or until it is saturated.
Carefully pour off any excess water and your mat is ready for planting. You can sow small seeds like broccoli or radishes directly on top of the mat.
Larger seeds like sunflowers, peas, or beans should be presoaked first. Once they have swollen up they can then be seeded on the mat.
Planting Alfalfa Microgreens On A Tray With A Coco Grow Mat
Here is a video of me planting seeds on a coco grow mat inside a double tray. Alfalfa seeds are commonly used to grow sprouts but I want to see how they will grow as microgreens.
Last time when I seeded my sunflower microgreens I forgot to soak them. I did not want to take them out and soak them.
So I covered them with a thin layer of coco coir and misted it instead. I am sure they will be fine but they may take a few days longer to germinate.
But these alfalfa seeds are much smaller so instead of covering them I just misted them and used another plant tray as a cover.
It is much easier to sow dry seeds. Seeds that are wet can stick together and are harder to sow evenly.
FAQs:
Embarking on the journey of growing microgreens can be filled with anticipation and a sprinkle of questions.
This FAQ section is here to escort you through the garden of inquiries blooming in your mind.
As you traverse through, you'll unearth the simplicity and gratification seeded in the practice of cultivating microgreens indoors.
Now, let's tend to some of the common questions that might be germinating in your thoughts.
Q. What are the benefits of using 1020 planting trays for growing microgreens?
A. 1020 planting trays are spacious, reusable, and perfect for microgreen cultivation.
They accommodate ample growing medium or coco grow mats, and provide excellent drainage with their slotted design, and the secondary tray without holes acts as a reservoir, minimizing mess and conserving water.
Q. Why is coco coir recommended over peat for growing microgreens?
A. Coco coir is a sustainable, renewable resource unlike peat, which is harvested from bogs, harming the ecosystem.
It retains moisture well, provides a good growing medium for microgreens, and doesn't require additional soil amendments like perlite, making it a more environmentally friendly choice.
Q. How do coco grow mats simplify the growing process?
A. Coco grow mats provide a clean, easy-to-handle base for growing microgreens.
They eliminate the mess associated with loose soil, making planting and harvesting simpler.
Moreover, they can be cut to fit containers, allowing for a fresh, living product to be sold or kept for personal use, extending the freshness of the microgreens.
Q. What's the procedure for pre-soaking larger seeds like sunflowers, peas, or beans before sowing them on coco mats?
A. Larger seeds benefit from pre-soaking to hasten germination. Immerse them in water for 4-8 hours or until they swell up.
Drain the water, and then sow the seeds evenly on the coco grow mat.
This pre-soaking ensures they are well-hydrated and ready for a strong start in their growth journey.