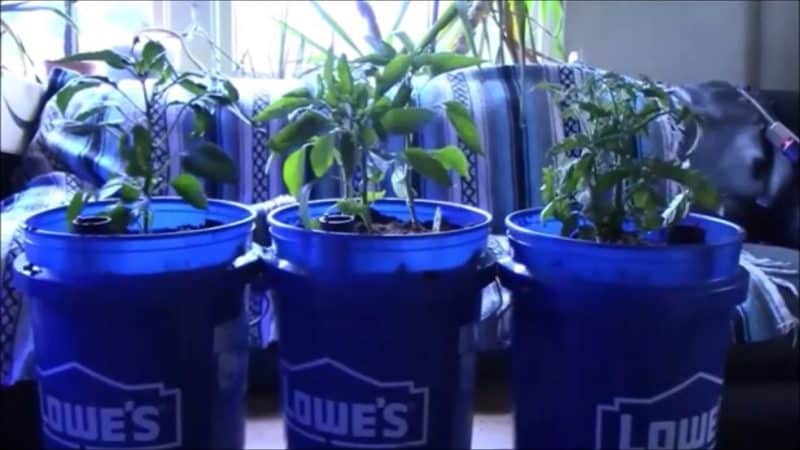 Do you want to build a DIY sub-irrigated planter? We will show you how to build a 5-gallon SIP planter and also a raised bed SIP planter. It's not hard to do.
If you are not interested in a DIY SIP we have some ready-made options for you too. If you don't have the tools it might be a cheaper option.
DIY Sub-Irrigated Planter
Sub-irrigated planters, SIPs, and self-watering planters are different names for the same thing. They all use capillary action to move water from a reservoir into the soil profile.
You can fill them with commercial potting soil or coco coir but don't try to use garden soil in them. 
You need a light fluffy mix that wicks water well and provides good aeration for the roots.
Even commercial potting mix can benefit from added perlite while coco coir is fine on its own. I use coco coir in all my SIPs.
It weighs half as much, has a naturally neutral pH, doesn't compact, and has great wicking properties. I really recommend coco coir over potting mix.
Building A 5 Gallon SIP Planter
This guy used 2 buckets to build his self-watering planter. I like the idea of using spacer blocks to make the reservoir larger. This should work well if you want to go on vacation.
He used polyester rope for his wicks. You can use other materials to make a wick but it should not be made from something like cotton that can rot.
I am sure this system will work well but I prefer a system like the GroBucket which only uses one bucket and eliminates needing a wick.
DIY Sub-Irrigated Planter Bed
This is a much more complex project than a DIY 5-gallon bucket SIP. You should have some basic carpentry skills and tools to build it.
But it is really not that hard if you don't want to build a wooden box you could use a large plastic tote for this.
This video shows perforated drain tubing in the bottom to form the reservoir. It seems to be a popular way to build these planter boxes.
I would rather see a piece or pieces of rigid plastic with small holes in it or multiple wicks used as a shelf. It could be supported by bricks. But hey that's just me.
GroBucket 5 Gallon SIP Planter
I use GroBuckets for my tomatoes and peppers. Very easy to set up and they only use a single bucket.
Their insert eliminates the need for a wick and they are pretty easy to fill and see the water level in the reservoir.
You will need to drill a small drainage hole in the bucket. If you don't have a drill the point of a knife will do just fine. The level of the hole is important but the size or shape of the hole is not.
The kit includes the insert, fill tube, and float but not the bucket.
They are sold in groups of 3 or ten. Plenty of free buckets around. You may already have some if not they are only a few bucks each.

Raised Garden Bed Self Watering Planter Box
This self-watering planter box is raised up on legs. It is compact enough to easily be used indoors and out. There is a bottom shelf for storage and a seedling tray too.
But the best thing is it is 30 inches tall. It means no bending over and that may not seem like a big deal to some. But if you have a bad back or are in a wheelchair it can be a godsend.

It has a 12-gallon planter box which will easily enable you to grow several large plants like tomatoes or peppers. 
I like that there is an easy-to-access and see water gauge and fill tube. There is also a built-in drain hole to empty the reservoir.
If you keep this outside you will want to be able to drain the reservoir after heavy rain.
I also like the fact this planter box does not rely on wicks. I use them on my smaller SIPs but they can limit capillary action for larger planters.
Here is a good video review of the Keter Urban Bloomer
DIY Sub-Irrigated Planter Final Thoughts
I love my sub-irrigated planters and once you give them a try you will too. 
There are plenty of ready-made options and sizes for those with two left thumbs. If you are handy there are plenty of DIY sub-irrigated planter projects on YouTube.
If you have had bad luck growing things because of over or under-watering using a SIP will help solve that problem for you.
Whether you build one or buy one your garden will thank you for it. Happy Gardening!