This post contains affiliate links. If you buy something from one of our links we may earn a commission. Thanks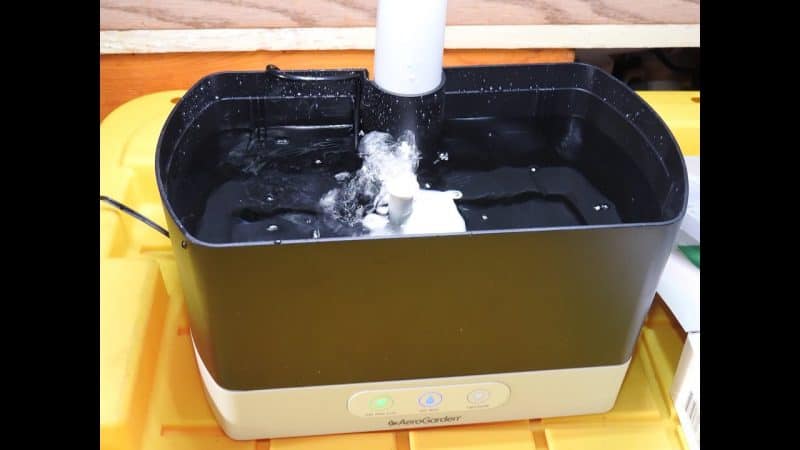 Have trouble deciding what AeroGarden should I buy? Find the perfect match for your space, budget, and gardening goals with our helpful guide.
I knew that I wanted to try out the AeroGarden but what Aerogarden should I buy?
Which AeroGarden to Buy Key Takeaways:
What AeroGarden should I buy?

Choose an AeroGarden based on your space, budget, and gardening needs.

The Sprout is great for small spaces and limited needs, while the Harvest suits average homes.

For more extensive gardening, consider the Bounty or Farm models.

Your choice should align with the types of plants you wish to grow.
What AeroGarden Should I Buy?
Picking the right model can be confusing with so many options. Whether you're tight on space, on a budget, or looking to grow a specific type of plant, this guide will help you navigate through the different AeroGarden models to find the one that's just right for you.
There were quite a few models to choose from and I found it a bit overwhelming. Maybe you do too. So I dug in and did some research and here is what I found out:

What Is The Difference Between Aerogardens?
There are 4 basic AeroGarden models. The Sprout is the smallest with 3 pods. Next in size is the Harvest with six. The Bounty has 9 pods. The Farm is the largest with 12 or 24 grow sites. As size increases so do the size of the LED light and the amount of water and nutrients the reservoir can hold.
So What AeroGarden Should I Buy?

A lot will depend on how much food you want to grow. If your family is larger you will want a larger-sized AeroGarden. The Sprout, Harvest, and Bounty are compact units that can fit just about anywhere.
What Are The Different AeroGarden Models?
The smaller AeroGarden models are the Sprout, Harvest, and Bounty. They hold 3, 6, and 9 pods respectively.
The AeroGarden Farm has 12 and 24-grow space models and takes up a lot more space. Because they are larger they also use more height. On average you will need about 3 feet of floor space for them and equal height too.
You will have to decide what your budget will allow too. While most people can afford the 3 smaller AeroGarden models the Farm models are considerably more expensive.
Currently, Amazon is offering payment options on some AeroGarden models and some have been discounted too but these deals may not last.
Why Buy An AeroGarden?
I missed growing my own food now that winter was here and my outdoor garden was shut down.
But my apartment is small and space to grow vegetables was limited. The small size of the Aerogarden really appealed to me.
Also as an experienced gardener, I was very familiar with hydroponic growing systems.
Where Can I Buy An Aerogarden?
AeroGardens are hot and you can buy one at just about any big box store.
I recommend buying them from Amazon mainly because you can read the customer reviews from actual users before you buy.
You will get it delivered to your door and some models offer payment options.
At a big box store, you are not going to get the information found in reviews from most employees. You are not getting the convenience of home delivery either.
I researched the AeroGarden by reading online articles but mostly I did my research on Amazon.
I wanted to read reviews from people who actually owned an AeroGarden and not just from people trying to sell me one.
What AeroGarden Did I Buy?
After doing my research I was more convinced than ever that I wanted to give it a try but I still didn't know what AeroGarden to buy.
There are quite a few AeroGarden models available and some were fairly expensive.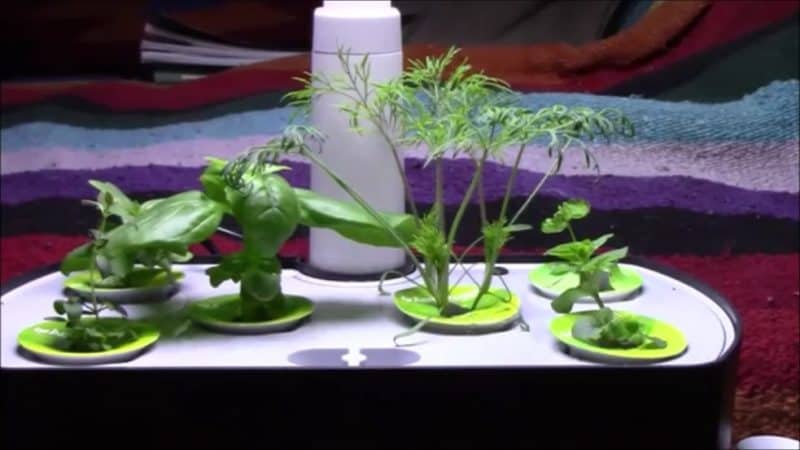 Before I spent a lot of money  I needed to know if the AeroGarden is worth it.
I decided that the Sprout was probably too small to grow enough for my needs.
The Bounty looked much more promising but was more than I wanted to spend to test something out.
I decided that the AeroGarden Harvest was large enough to give this product a fair test and the price was more in line with what I wanted to spend.
The picture below was taken on week 3 after pruning my plants
You can read my review of the Aerogarden harvest here: AeroGarden worth buying? An Honest Review Of The Aerogarden Harvest
I am currently doing a week by week grow with the Harvest and you can follow that grow here: AeroGarden Harvest Review
So the AeroGarden Harvest was my choice and so far I am very happy with it.
Is An Aerogarden Worth It?
Is an Aerogarden worth it? I would have to say yes. If you want to grow vegetables or herbs in an apartment or condo where space is limited they are a no-brainer.
More importantly, they are easy to use and even an inexperienced grower can be successful.
Now I am considering buying an AeroGarden Bounty because I think it will be a better choice for growing tomatoes and peppers.
Does The Aerogarden Really Work?
Based on my personal experience I would say not only does it work but it works very well. I actually harvested a small number of herbs 3 weeks after turning it on.
It is set and forget simple. The only thing I had to do was add some water to the reservoir about 2 1/2 weeks in when the indicator light started flashing. The light and pump are on a timer and the pods germinated much faster than expected.
AeroGarden Harvest Update
Just to update I have had my AeroGarden Harvest for over a year and a half at this time and it has worked flawlessly. For me buying an AeroGarden was definitely worth it.
Which Aerogarden To Buy An Overview Of Aerogarden Models
So the Aerogarden Harvest was just my choice and you may want a different one.
So let's briefly go over the different AeroGarden models so you can answer the question of what AeroGarden should I buy for yourself.
AeroGarden Sprout Gets You Started

The AeroGarden Sprout features 3 plant sites. It is very affordable and makes a great way to start growing your own food.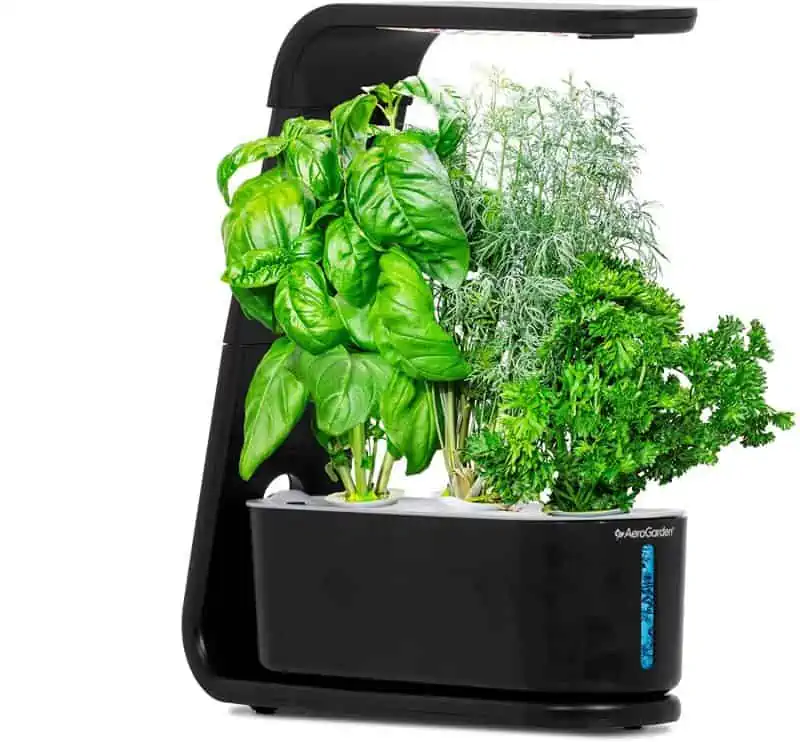 It has a 10-watt led light and you can grow plants 10 inches tall in it. It comes with 3 pre-seeded pods: Genovese Basil, Curly Parsley, and Dill, and a bottle of plant nutrients.
Its dimensions are 11.94 x 3.42 x 14 inches so it is very compact and can be set almost anywhere near an outlet.
It is inexpensive and makes a good choice for someone who has never tried growing before or doesn't need to grow a lot of herbs.
You could grow lettuce in it but the 10-inch height would not be good for tomatoes or peppers.
AeroGarden Harvest Offers More Versatility

The AeroGarden Harvest comes in several different models. I bought a basic unit made with black plastic. But there are stainless steel models like the Elite and the Elite 360 which are round.
Some come in different colors or with different pods. To me, this was confusing at first but I settled for a basic AeroGarden Harvest
Some models are considerably more expensive too. My basic unit was about $80 but the stainless steel Harvest elite is about twice that.
The AeroGarden Harvest Elite has more bells and whistles. It has an interface that allows more flexibility in programming and it also features a vacation mode.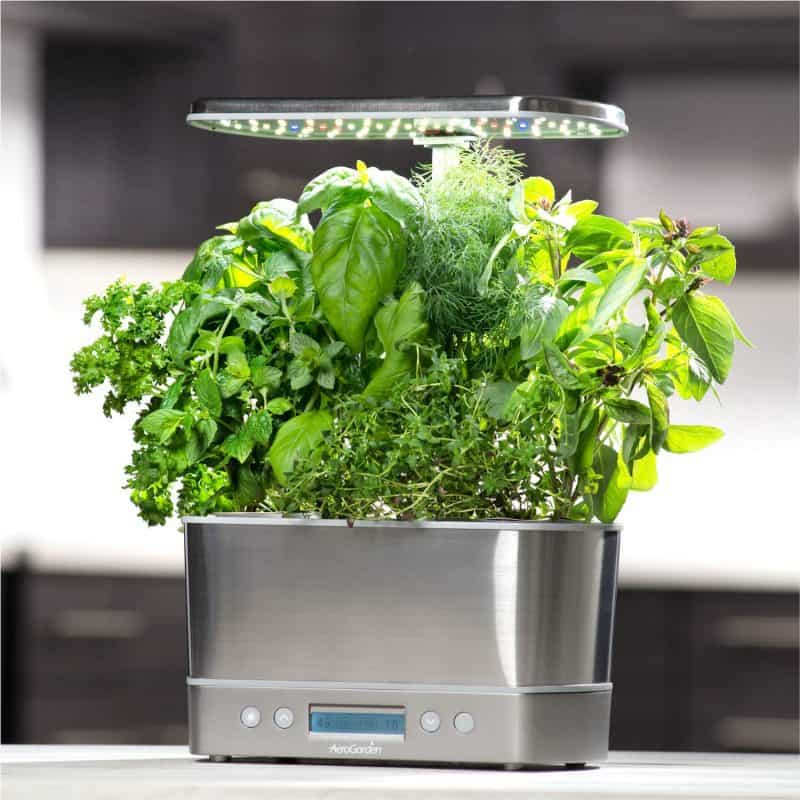 Other than that all models feature 6 pod sites, a 20-watt LED, and 12 inches of growing height. Their dimensions are 6 x 10.5 x 17.4 inches.
They all come with Genovese Basil, Curly Parsley, Dill, Thyme, Thai Basil, and Mint and fertilizer. However, you can buy separate seed pod kits to grow other plants.

You can grow various greens and lettuce easily and even small patio tomato plants and peppers in the Harvest but you need to be willing to train and prune them.
I grew their chili pepper pods after growing their herbs. They did not get really large and training them was pretty easy.
The exception is the Harvest 360 which is 9.02 x 9.02 x 17.4 inches. The AeroGarden Harvest 360 is their most popular countertop model.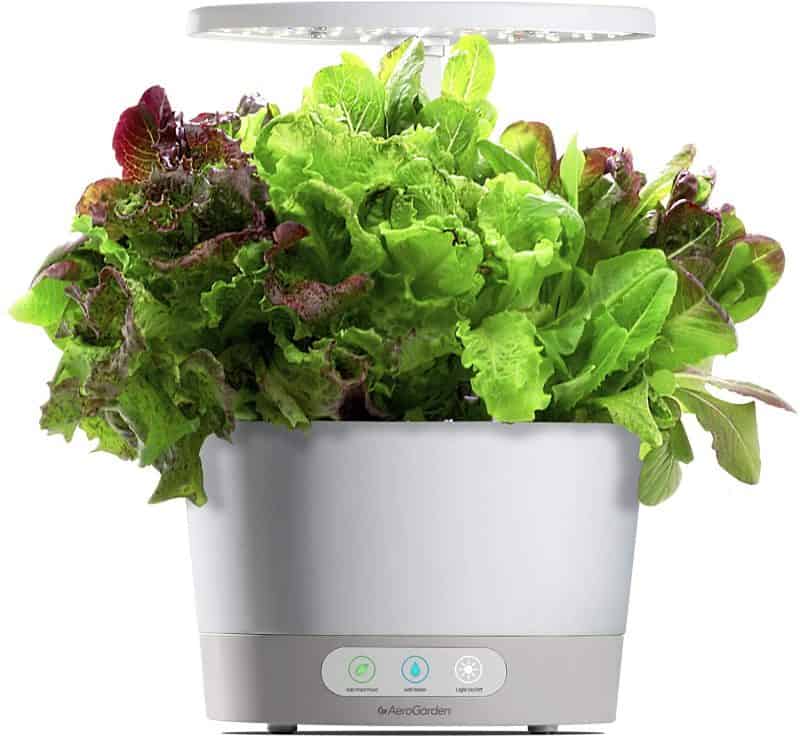 Aerogarden Bounty Does More
The Aerogarden Bounty Basic is a step up in size from the Harvest. It offers 9 pod sites and offers 24 inches of growing space. This makes it ideal for peppers or cherry tomatoes.
It has a 50-watt LED which will provide the extra light that plants like tomatoes and peppers like.
It features a larger reservoir which means less frequent refilling. It offers an enhanced display panel.
You get more control of the different settings and your grow itself. It also offers vacation mode.
It really seems to me like a bigger, better  Harvest Elite. It measures 16.5″ W x 11″ D x and 14.5-30″ H. 
The deck is larger leaving more room for plants to grow. The seed pods it comes with are Genovese Basil (x2), Thai Basil, Curly Parsley, Italian Parsley, Thyme, Chives Dill, Mint, and  Miracle-Gro liquid plant food. 

Aerogarden Bounty Elite
The AeroGarden Bounty Elite takes things to another level by adding WIFI. The AeroGarden Bounty Elite is compatible with WIFI and Alexa too.
You can monitor and control it from the AeroGarden app or your Amazon Echo device.
Otherwise, there is not much difference between it and the Aerogarden Bounty Basic besides the higher price you pay for this convenience.

Aerogarden Farm Is Family Sized
The AeroGarden Farm comes in 2 sizes a 12-pod and 24-pod version.
One thing I really like about the AeroGarden farm is the fact they are modular and stackable allowing you to create a wall of food.
This is really taking square foot gardening indoors to another level.
If you want to feed your family and grow vegetables in your apartment this is the way to go.
A Size Comparison Between Aerogardens 
A quick view comparing an AeroGarden Harvest, AeroGarden Bounty, and AeroGarden Farm 24.
Here is a look at the Farm control panel
AeroGarden Farm 12XL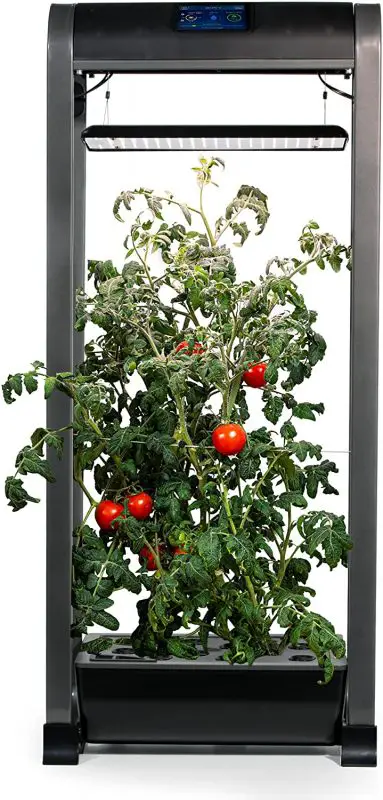 The AeroGarden Farm 12XL increases your growing options.
Stacking is a great way to save floor space and increase production in a limited area.
The Farm units are large enough to grow full-sized tomatoes and peppers.
With proper plant training, the types of things you can grow are almost limitless.
The Farm 12XL measures 20 x 14 x 46 inches so it is pretty narrow and can fit almost anywhere. 
It has a 60-watt LED and raising or lowering it is motorized. 
You can also control the light intensity.
It has a sunrise/sunset setting to further mimic natural daylight.
It gives you 36 inches of growing height and has WIFI and Amazon Alexa connectivity.
It also has a touch screen and it reminds you when to add water or nutrients and you can use it with or without WIFI.
Best Aerogarden For Tomatoes?
You can grow tomatoes in the Harvest and Bounty but they are small varieties. They taste great but they don't taste like a full-sized garden tomato.
If you want to grow these or your favorite chili peppers you need a unit that offers more height.
That is exactly what the AeroGarden Farm is designed to do. Offering more space and height for larger plants it also offers a more powerful LED to provide light even to lower branches.
I really would not recommend these Aerogarden Farms for beginners. But if you have some gardening experience or have a family to feed they may be just right for you.
AeroGarden Farm 24 Basic
As you might guess this is basically 2 12XL units together. It has 2 LED lights.
They also offer a Farm24 Plus and a Farm 24XL for a few dollars more. The AeroGarden Farm Basic only offers 24 inches of growing space but it was designed to be stackable. The 24Plus also offers 24 inches of grow height.
AeroGarden Farm 24XL
Personally, if I were going to buy an AeroGarden Farm the AeroGarden Farm 24XL is the one I would choose because it offers 36 inches of growing height so it is perfect for tomatoes or peppers.
But with 2 lights you can keep one lower and grow lettuce or other greens alongside taller plants.
It does not cost much more than the other Farm models but offers more versatility because of the greater height.
Aerogarden FAQs
Choosing the right AeroGarden for your indoor gardening needs can be a challenge.
Below, I've answered some frequently asked questions to help guide you in selecting the best AeroGarden model for your home.
Whether you're a beginner or an experienced gardener, this Q&A will provide clarity on the different AeroGarden options available.
Q: What is the difference between different AeroGardens?
A: AeroGardens vary primarily in size and pod capacity. The Sprout holds 3 pods, the Harvest 6, the Bounty 9, and the Farm 12 or 24. Larger models have bigger LED lights and can hold more water and nutrients.
Q: What is the most popular AeroGarden?
A: The AeroGarden Harvest is popular due to its balance of size, capacity (6 pods), and affordability. It suits most average-sized homes and gardening needs.
Q: What is the difference between AeroGarden basic and elite?
A: The basic models typically have simpler designs and fewer features, while elite models, like the Harvest Elite, offer stainless steel finishes, more advanced interfaces, and additional settings like vacation mode.
Q: What are the pros and cons of AeroGarden?
A: Pros include ease of use, suitability for small spaces, and efficient hydroponic system. Cons can be the cost, especially for larger models, and the limitations in growing certain larger plants.
Q: Is it worth buying an AeroGarden?
A: Yes, especially if you have limited space or prefer a soil-free, hydroponic gardening method. It's user-friendly and great for growing herbs, lettuce, and small vegetables.
Q: What Cannot be grown in an AeroGarden?
A: Root crops like carrots, beets, or potatoes are not suitable for AeroGardens. However, leafy greens like Swiss chard are a great alternative.
Is AeroGarden worth the money?
I definitely think it is. I have a small apartment so compact size is important to me.
I enjoy growing hydroponically and get better results than in soil and I really don't want soil in my apartment.
It has worked perfectly for almost 2 years so far. Is it worth it? It is to me but your situation may be different.
To sum up, if it broke I would definitely buy a new one and probably a larger one.
Which AeroGarden is best for lettuce?
All sizes of the AeroGarden will grow lettuce equally well. It really depends on how much lettuce you want to grow.
In my experience lettuce sprawls out so you probably will only be able to use half the pods fully.
Buttercrunch is a semi-heading lettuce and gets larger than leaf lettuce so you will need fewer plants than if you grow leaf lettuce.
But lettuce grows fast and you can thin out half the pods and let the rest mature.
Or you can try harvesting individual leaves instead of whole plants to extend your harvest.
Can I grow tomatoes and lettuce in the same AeroGarden?
Yes, you can. They work for virtually all plants. The growth rates of lettuce and tomatoes are very different.
Lettuce can be done in 45 days while tomatoes can take twice as long to fruit. If you try to grow both at once you may have problems with the tomatoes shading and crowding out your lettuce.
Can you grow different things in an AeroGarden?
You can grow many different plants in an AeroGarden including vegetables, herbs, and even flowers. Some can be mixed and matched and grown at the same time.
How long do AeroGarden plants last?
That really depends on the plant. Some plants like tomatoes and peppers are perennial and can last years. Others like lettuce will only last about 60-90 days. Some herbs are also perennial and can last a long time.
Can I use my own seeds in an AeroGarden?
Yes, you can use your own seeds in an AeroGarden. You can buy unseeded pods and put your own seeds in them.
What is The Best Aerogarden? Final Thoughts
So, are you are wondering what AeroGarden should I buy?
The answer is the best AeroGarden is the one that fits your living space and budget. More than that the best AeroGarden is the one you will actually use.
I tried to give a brief overview of the different AeroGarden models but I encourage you to do your own research too.
You can start small and work your way up as your skills grow and if you like gardening this way.
I think growing your own food is one of the most fulfilling hobbies there is.
The question should not be what Aerogarden should I buy? Instead, it should be about how fast can I get my first AeroGarden and start growing my own food.
AeroGarden worth buying? An Honest Review Of The Aerogarden Harvest (indoorvegetablegrower.com)