Leeks are a fantastic and underappreciated vegetable in North America but don't let that stop you from growing leeks in containers.
Leeks are in the onion family. They are a cultivar of Allium ampeloprasum but unlike onions, leeks do not make bulbs.
Their leaves make thickened stems that are often blanched and that is the edible part of this delicately flavored vegetable.
In America, the most famous use of leeks is in vichyssoise, that creamy potato-and-leek soup made famous in the mid-1900s by New York City Ritz-Carlton chef Louis Diat.

Leeks, however, are very versatile, lending their sophisticated, delicious character to any dish calling for onions. https://www.hmongfarmers.com/leeks/
Growing Leeks In Containers Indoors
I will be growing Burpee Dawn Giant Leek from seed. I sowed seeds in coco coir and they started to sprout in a bit less than a week.
Burpee says these leeks get big about 2 inches across and 15 inches long and take about 98 days to mature.
Once they have grown for a week or two I will remove the seedlings from the tray and transplant them.
I plan on growing them in a 5-gallon bucket. I will start with about 6 inches of coco in the bottom of the bucket.
It is common to blanch the stems by hilling up the soil. I have seen people using the tubes from toilet paper rolls to blanch them.
It seems like it would be hard to get the plant through them and I don't think they would last very long outdoors.
I plan to fill around them in the bucket with coco to blanch them. I will wait until they are getting close to pencil sized to start.
Then I will add another 6-8 inches of coco coir to the bucket. Some people say hilling gets soil in the folds of the leaves. 
I think that is why they use a tube placed over the plant. Coco coir should be much less of a problem for this. More info on coco coir:
Growing Vegetables In Coco Coir Indoors (indoorvegetablegrower.com)
Here they are about a week later. I want them to be pencil-sized to transplant them.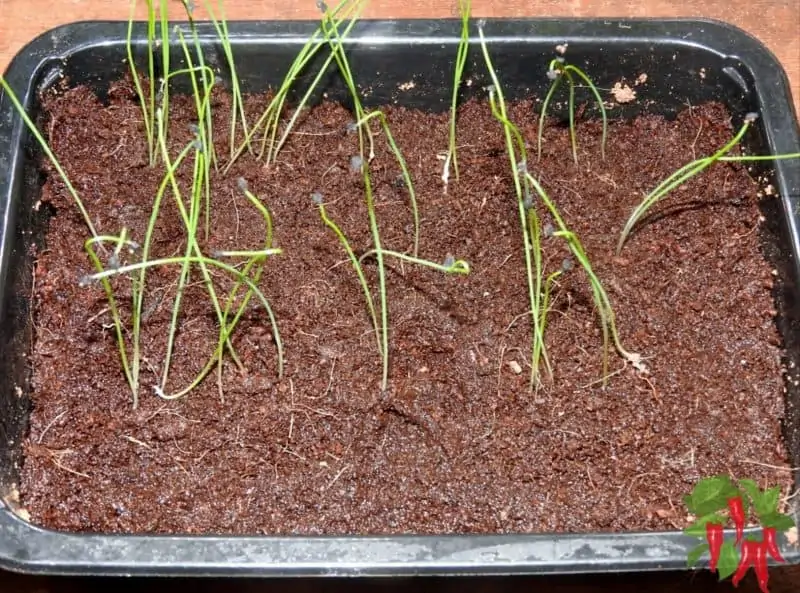 Do Leeks Need To Be Hilled Up?
Hilling up leeks will blanch them and produce long white shanks but is it necessary?
Opinions differ. Those that favor blanching leeks say it makes them more tender and milder in flavor.
But some say hilling leeks is totally unnecessary. I tend to agree but I will blanch mine this time around.
I will probably set my extra seedlings outside and those will not be blanched so I should be able to tell if it really makes a difference.
Since I am growing leeks for personal use appearance is not as important as if I were growing for the fresh market.
Blanching the stems by hilling up soil around them will make your leeks more tender and mild, but isn't absolutely necessary. https://extension.umd.edu/resource/leeks
I will be providing updates on growing leeks in containers as they continue to mature.